Change Your Health with Dr. Prater, ND & First Line Therapy Program
One in 3 Americans have metabolic syndrome—a cluster of conditions that can lead to type 2 diabetes and heart disease, which can be preventable or reversible through my clinically proven lifestyle medicine program.
If you have 3 of the 10 following markers:
Elevated waist circumference.
Elevated triglycerides.
Reduced HDL "good" cholesterol.
Elevated blood pressure.
Elevated fasting glucose.
Noticeable decreased energy/fatigue &/or libido
Noticeable changes in sleep quality/normal pattern,mood:anger/sadness/concentration,
frustration
Increased muscle/joint pain, recurring injuries not healing
Weight gain, uncomfortable stomach symptoms
Bone loss, osteopenia
Then you are at risk!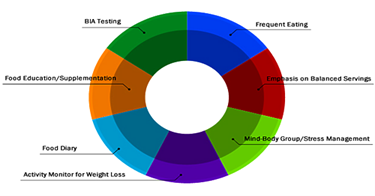 My First Line Therapy Program is a Customized Lifestyle & Regenerative Plan Specific to you!
This is definitely not weight reduction program —
It's a Disease Reduction, Regenerative Medicine, and Longevity Program!
While weight loss often occurs, it's only secondary to the primary goal helping you achieve and maintain a healthy body composition (lean-muscle-to-fat ratio) to improve health, manage disease, feel better, and reduce your risk of more serious conditions.
First Line Therapy is different, structured/flexible and guaranteed by 27 years of personal & clinical experience with
Dr. Prater, ND!
Also available Dr. Prater, ND ~ Introductory Program & Plan Of Care
Available only first time clients: $700 savings:
Get your 1st Plan of Care (POC) for only $275.00
Send Zelle Payment to 219-613-1161 & Text
"1st POC $700 savings!"
Also include in text your:
Name & Email
Dr. Prater, ND 5 Keys to Your Success are:
Personalized Nutrition!
Customized Supplementation!
(Genetic ~ Lab's ~ Gender ~ Age ~ And Goal Specific)
Regenerative & Longevity Medicine
Specific Lab Testing
Synergy & knowing the perfect combination for you
Dr. Prater's "Secret Sauce!"
The Primary 4 Problems we will ELIMINATE to Establish your personal Success!
Remove the obstacles!
Eliminate the Pain!
Understand & defeat the BIG 3 SAT: Stress ~ Anxiety ~ Tension
Eliminate doubt!
One of Dr. Prater, ND most popular & Guaranteed Programs!
ADDRESS THE CAUSE OF DEGENERATIVE CONDITIONS & PAIN PROGRAM
IF YOU FOLLOW THIS PROGRAM EXACTLY AS DIRECTED AND YOU'RE NOT SATISFIED BY THE 3RD MONTH YOU CAN BE REFUNDED REMAINING PORTION OF THIS PLAN!
For Plan outline & Initial Appointment to determine if this program is the best option for you TEXT 219-613-1161 "Guaranteed Results!"
Also Available To All Clients Dr. Prater, ND's
Comprehensive Total Body Physical & Wellness Evaluation (CTBP&W)
Lifestyle medicine is a specialized discipline. All First Line Therapy healthcare practitioners must undergo an intense certification process.
And finally most important, only God heals, Dr.'s just assist and listen!